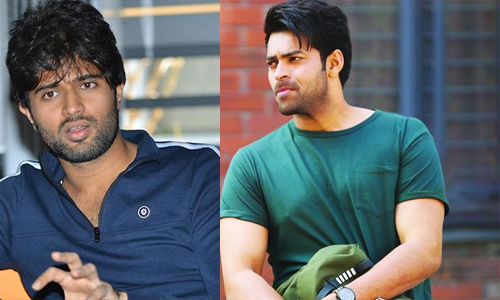 Movies with sports background were a great success all the time. Now the young heroes both Vijay Devarakonda and Varun Tej are planning to work in the movies with boxing background it is reported.
Vijay is doing the movie called fighter being produced by Karan Johar along with Puri connects of Charmee in 5 languages. When people are saying that it is a movie with a boxing background, the reality is that Vijay has got training in martial arts for the movie.
Vijay is going to be a martial arts fighter in the movie.
Puri has weaved a powerful story on the lines of Amma Nanna Tamil Ammai where Ravi Teja was a boxer and his father Prakash Raj was a boxing trainer.
We do not know about the complete story of Varun, but the movie is with boxing as the background where the hero is a boxer again. So one is a martial arts movie and the other is a boxing movie.
While Varun has good number of leading ladies for the movie, Vijay is yet to get a good leading lady. They tried Jahnvi the daughter of Sridevi, but she refused the movie it is reported.
But both the movies have already been launched. They were just soft launches like an introduction. Puri is a fast movie maker and the Fighter will be ready in no time.
Comments
comments