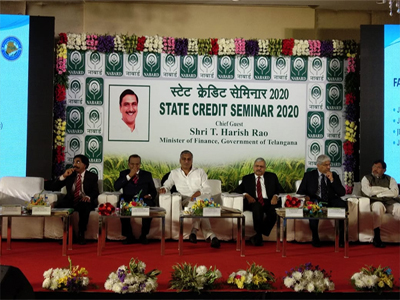 No other Government is spending so much of amount for the welfare of Farmers when compared with Telangana said Harish Rao the Minister for finance.
The Finance minister was speaking at a seminar organised by NABARD today. Harish Rao said that the farmers were getting free power, input subsidy and well as finance for agriculture.
At the same time, the water for irrigation was also being provided by the Government in the form of aking up various irrigation projects in the state.
The centre after looking at the modalities of Telangana is also giving money for agriculture across the country he said. The priority of KCRis the welfare of the farmers and also making them self reliant.
He also added that the fish cultivators were also been given fishlings at free of cost. The sheep and goat breeders were also getting them at free of cost. The Gollkurmas are also becoming self-reliant in the process Harish explained.
He wanted the banks to provide more finance at less interest to the farming community in a big in the state of Telangana. The Bankers assured harish that they would give maximum priority to the farmers here in the state.
Comments
comments