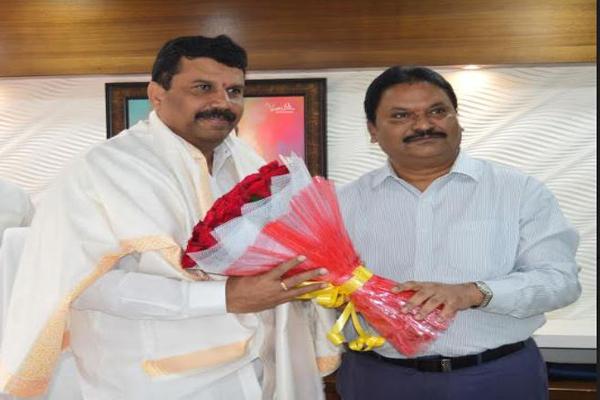 Civil Supplies Corporation Chairman Mareddy Srinivas Reddy said under the leadership of Hon'ble Chief Minister Sri K. Chandrashekar Rao Telangana government is working for welfare of poor people and farmers. Accordingly Civil Supplies Corporation is also going forward in that direction.
Mareddy Srinivas Reddy has completed one year as Chairman for Civil Supplies Corporation. On this occasion Civil Supplies Officers and Employees greeted him at his Office.
Srinivas Reddy said that Hon'ble Chief Minister Sri K. Chandrashekar Rao has taken up number of welfare schemes for farmers like irrigation projects, 24 hours current, Rythu Bandhu, etc have resulted in increase of paddy yield.
Telangana state is now a role model to other states. Officials from like Punjab, Chattisgarh states where paddy is produced high came to Telangana study on developments made through technology in paddy procurement and payments directly to farmers accounts, and curbing middlemen intervention. Telangana Civil Supplies Corporation achieved excellent results in Paddy Purchase and Minimum Support Price (MSP) Payments to farmers by implementing technology in every aspect.
Before the formation of separate Telangana state and after the separation we can see there is a tremendous growth in paddy yield and purchase. In 2014-15 soon after Telangana formation Civil Supplies Corporation purchased 24 lakh metric tonnes of paddy, whereas in 2018-19 it reached to 77 lakh metric tonnes. In span of five years purchases grown to 318 per cent. Last year Telangana stood second in the country in paddy procurement.
In last Kharif season Civil Supplies Corporation have purchased 40.41 lakh metric tons of paddy 8,09,885 farmers through 3297 Paddy purchase centers (PPCs), in this Kharif season till now from 8 lakh farmers through 3,669 PPCs Rs. 7,830 crores worth 44 lakh metric tonnes paddy is purchased. Another 2 lakh metric tonnes of paddy is expected.
Upgrade of Online Procurement Management System (OPMS) software has helped curbing middlemen intervention totally. Payments are made directly into the accounts of farmers without any delay. From 2016-17 till now 45 lakh farmers are been paid a sum of Rs. 37 thousand crores directly into their accounts
Comments
comments