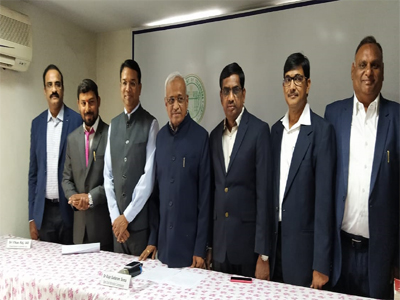 The new RTI commissioners have taken oath in the office at Mojamjahi market. Katta Sekhar Reddy, Myda Narayana Reddy, Dr Mohammed Aamir, Syed Khalilulla, Shankar Nayak have taken the oath with Raja Sada Ram the chief commissioner here in Hyderabad at the Office.
The other commissioner Buddha Murali and Secretary Vikas Raj have participated in the oath-taking ceremony here. Katta Sekhar Reddy is from Nalgonda district and has worked in many Newspapers here in the Telugu states.
Myda Narayan Reddy is from Siddipet and has worked in some Newspapers and TV channels. Shankar Nayak from Mahabubabad was a student leader from Osmania University.
MD Amir is an advocate from Hyderabad and has worked for the TRS several. Syed Khalilulla is also an Advocate from Hyderabad. He is a criminal lawyer from the city Civil court.
A few Journalists and lawmakers attended the meeting here at the RTI office today. The Commissioners will be in office for 3 years it is reported.
Comments
comments