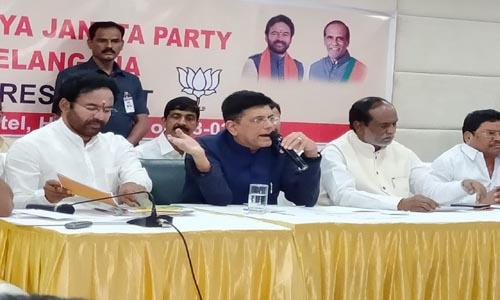 Union Minister for Railways Piyush Goel countered the argument of Minister for Animal Husbandry Talasani for saying that the centre has not allocated funds to the Telangana for the development of Railway lines.
Piyush Goel informed the minister that he must go through the budget before making such allegations. Piyush reeled out the figures and proved that the state Minister was informed properly.
Piyush who also visited the BJP office at Kukatpally was hopeful that the BJP will win a good number of seats in the coming elections. Piyush who participated in the Bio-Asia seminar here in Hyderabad praised the efforts of KTR for developing the industry in a big way.
Piyush was here to launch a satellite Railway station here at Kukatpally. The Local BJP leaders Dr Laxman and others submitted a memorandum to the Minister seeking for the development of railway lines here in Telangana.
On the issue of CAA, the Minister found fault with the attitude of Owaisi the MIM Chief and clarified that it has got nothing to do with the Muslims.
He said that some vested interests were trying to gain political mileage out of the CAA and that it was useful for the country. Piyush who was in Hyderabad for a day participated in various programs. It was like a whirlwind tour for the Union Minister who even made it to the BJP office to counter his political opponents.
Comments
comments