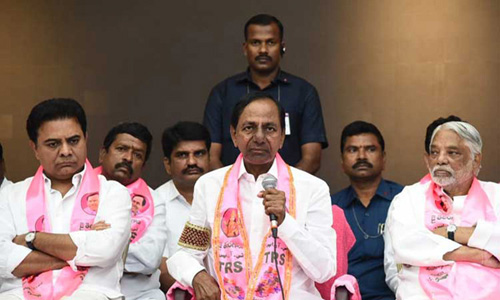 TRS has been developing the state for the last 6 years and the people have given a resounding victory said KCR the TRS President and the CM of Telangana.
The people have suggested me to go forward he opined. He thanked the people for the same. He complimented the leaders and the party workers apart from the Winners.
He also complimented he working president KT Ramarao who was sitting by his side. No party has got such a resounding victory KCR said. I have not gone for the publicity also so where is the question of using the power he questioned.
Can you prove that we have spent money on the election he questioned? The leaders must be in limits and talk according to the posts and become a constructive opposition KCR suggested.
Developing Telangana is a task for us and not a political game he said. Should not make personal comments in the social media he suggested. We have spent around one core in all for the election part from the election material he revealed.
I have note seen this kind of majority in all the elections on a regular basis he said. Telangana Pattana Pragathi soon. The lawmakers will be trained for the urban development he said.
Comments
comments