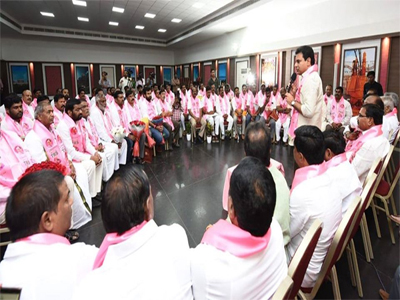 K Taraka Rama Rao the Minister for IT and the TRS working President today assured he newly elected lawmakers of various district banks that the TRS Government would soon waive the farm loans on the state of Telangana.
He was talking to the newly elected Chairmans at the TRS Bhavan here today in Hyderabad. He complimented the farming community for election all the TRS members for the Chairman posts.
He said that there was no other government in the country which has done so much of welfare to termers across the country. he talked about the loan waiver, financial help and also free power apart from providing water for the irrigation.
The land being irrigated has improved in all the districts KTR said. It will be taken upto the extent being assured by KCR the CM said the Minister.
He was happy that all sections of society are taking part in the development of Telangana in all the sectors.
Agriculture will be the main backbone of the growth engine he assured. KTR blamed the centre for not coming to aid of the farming community in the state of Telangana. The centre was not releasing the funds on time, but the state government was taking care of the farmers from time to time he stated.
Farmers welfare will always be on the top of the agenda he said.
Comments
comments