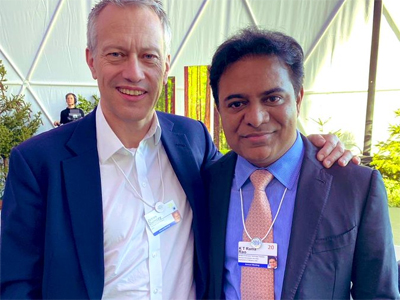 IT and Industries Minister KTR continues to hold back to back bilateral meetings with industry leaders from across the world at Davos.
Saudi Communications Minister Abdullah Alswaha interacted with Minister KTR at a business gathering in Davos. Minister invited the Saudi Minister to visit Hyderabad to explore potential collaboration opportunities. Mahindra Group Chairman Anand Mahindra also met Minister KTR at Davos.
Ms. Camilla Sylvest, EVP, Commercial Strategy & Corporate Affairs Novo Nordisk – Danish multinational pharmaceutical company met Minister KTR at the Telangana Pavilion in Davos. Possible collaboration with RICH and BioAsia were discussed in the meeting. Novo Nordisk has a market cap of $114 Billion and employs over 40,000 people globally.
In another meeting, Sanjay Mehrotra, Chief Executive of Micron Technology met Minister KTR and held discussions on partnering to support Hyderabad's economic development. Coca Cola CEO James Quincey and Minister KTR met at a business gathering on the sidelines of WEF in Davos.
Comments
comments