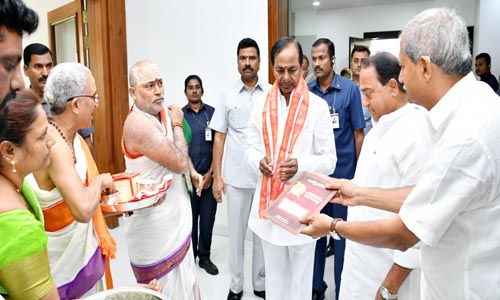 Chief Minister K Chandrasekhar Rao was invited to Vemulawada Rajarajeswari Temple for the Shivaratri. Minister for Endowments Allola Indrakaran Reddy and the local MLA CH Ramesh along with the Purohits of the Temple came to the CMs Camp office in Hyderabad and requested him to attend the Shivaratri pooja here at the Vemulawada Temple.
The Chief Minister who was busy with the conference of the Municipal employees took the time of the busy schedule and accepted the Invitation. It was not final if he would go to the Temple or not for Shivaratri.
It was KCR who took a keen interest in the development of the Temple and also allocated funds for the same. No other CM took such keen in interest in developing the Venulwada Rajarajeshwari Temple.
Last time when the went to the Temple with his family members during the visit to Siricialla, the CM offered his prayers and also worshipped the Cow Matha here.
KCR is keen that the Temple should be developed on part with any other temple in the state. He is keen on developing the Temple Tourism in a big way in the state of Telangana.
Comments
comments