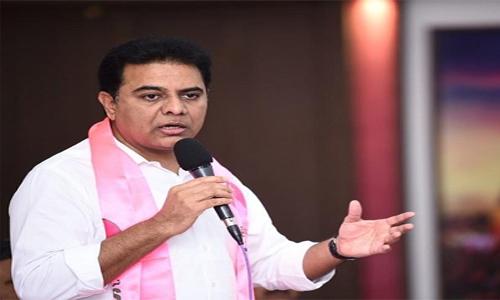 K Taraka Rama Rao the Minister for Municipal administration said that the people have voted for the welfare and development being implemented by the TRS under the able and noble guidance of the Chief Minister K Chandrasekhar Rao.
The opposition must now open their eyes and become constructive for the development of the state he suggested. He thanked the lawmakers and social media warriors for support the TRS and getting a thumping majority at the Municipal elections.
So far TRS has got 111 municipalities out of the 120. The Congress and the BJP have got a death blow from the voters of the Municipalities. These are the ground level elections and it is crystal clear that people want the KCR rule in a big way. The positive vote for the TRS is increasing by the day. The vote percentage has increased and it is around 51 per cent.
The TRS has achieved a clean sweep in the sitting places of Congress. The BJP is now where. KTR thanked the people for an overwhelming majority and assured that more development would come in the long run.
The people have faith in KCR and that resulted in the majority KTR opined. The development in the sectors of power, irrigation, drinking water and housing has made all the difference in the elections.The people have reposed faith in Telangana Bapu again.
Comments
comments