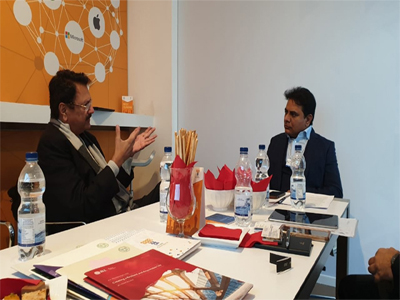 KT Rama Rao the Minister for IT and Industries has made his impact in presenting the case of Telangana here. His tour has been a great success and he could get an order worth Rs 500 crore from Piramal group.
KTR will be returning after the 4-day tour and on 25th he would be monitoring the results of Municipal elections.
In a rare honour, the organizers of the World Economic Forum have invited Telangana Minister KTR to an exclusive 'Gathering of World Economic Leaders' (IGWEL): Keeping Pace – Technology Governance at a Crossroads' in Davos.
It may be noted that Minister KTR is the only state-level (provincial) Minister to be invited to this coveted gathering. At the WEF, Minister KTR is granted a special badge with a shiny holographic sticker, which gives entry to the hyper exclusive Davos-within-Davos known as IGWEL meetings.
This badge is given only to the senior government policymakers and head of the states. IGWEL is a gathering which brings the world leaders onto a single platform and encourages them to talk more freely.
The organizers of the World Economic Forum invited world leaders including the Prime Ministers of various countries and National Ministers from various states and provinces.
The list of Prime Ministers who attended the gathering includes Ana Brnabić, Prime Minister of Serbia, Mateusz Morawiecki, Prime Minister of Poland, and Jüri Ratas, Prime Minister of Estonia, Estonia.
Comments
comments