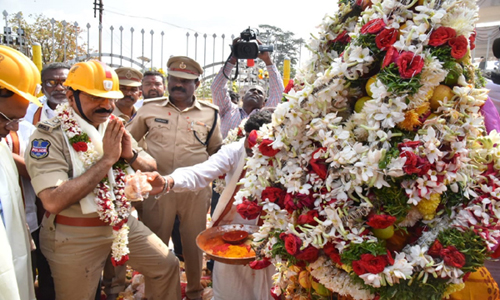 Being a Sunday there is a large number of Pilgrims at the Sammaka Saralakka Temple today at Medaram. The Jatha is yet to begin, but the pilgrims from the local and neighbouring places have come to the venue in big numbers. It looks as if the Jathara has already begun.
Minister for IT and Industries K Taraka Rama Rao has given a call that the pilgrims coming for the Myadaram jathara must not use plastic at all.The Jathara should be done without any plastic usage he suggested.
KTR also released an AV film which creates awareness among the public to stop the usage of Plastic and prevent the environment from getting polluted.
Medaram jathara is being called as the Kumb Mela of Telangana. Lakhs of people would come to the Jathara in February. It is celebrated on 5,6,7nth of next month.
The State Government is leaving no stone unturned for the celebrations. The district collector has been suggested to make all-out arrangements for the event.
The Chief Secretary Somesh Kumar and DGP Mahendar Reddy are looking after the arrangements here in Warangal at the venue.
They are overseeing the arrangements being made here.
Comments
comments