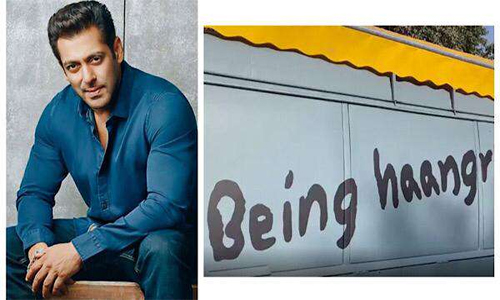 Salman Bhai with the inspiration of Being Human brand has coined his food truck as Being Haangryy. It sounds like angry and also hungry/ So one can deserve whatever he wants from it.
Salman khan the hero of the sultan is staying in his panel farmhouse. He is along with his girlfriend Lucia Vantur. From there are also they have sent food packets in bullock courts to the people staying around them.
Now he is sending food around the slims of Mumbai even though he is not in Mumbai. This is being human. He has posted several videos in the Instagram on this account.
Like any other Salman is also bothered about the lockdown and also the film industry. We do not know when he is going to get married. These days he is not getting big hits also.
Right now he is looking for a good story from the south to be approved by his father Salim Khan for making it in Bollywood. BajarangiBhaijan and Sultan were big hits for him.
Maybe he will also look at the OTT platform is to be seen. Once the lockdown is over he will come back to Mumbai and then things will change.
Comments
comments