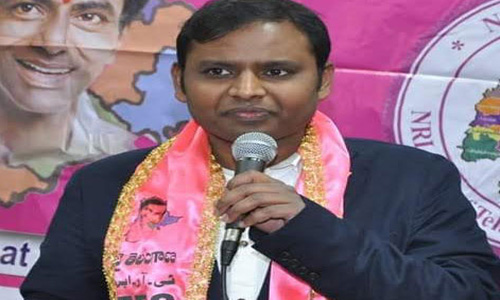 NRI TRS Founder President Anil Kurmachalam thanked people of Telangana for giving the landslide victory in the recent municipal polls and strengthening CM KCR leadership.
In the press conference organised by CM KCR in Telangana Bhavan, announced the plans to implement NRI policy to benefit Telangana NRIs across the world.
He expressed his special concern about GULF NRIs and hope that this policy will help the welfare of GULF NRIs especially.
Anil Kurmachalam thanked CM KCR for not only taking the initiative for the policy but also for the special interest to visit Gulf countries and meet the NRIs personally to understand the problems and issues to address them with more commitment and conviction.
Anil kurmachalam said, with this initiative entire NRI community is appreciating CM KCR for his concern towards NRIs living globally. He also thanked Minister KTR and Ex-MP Kavitha for their continuous efforts to bring this policy.
Since 10 years through NRI TRS i was connected to NRIs across the globe and especially gulf NRIs are always demanding for special policy and sure today they will be very happy and appreciate CM KCR for being so responsible towards every Telanganite living across the world.
Gulf TRS Leaders Juvvadi Srinivas Rao, Sathish Kumar, Sridhar Abbagoni , Abhilasha and many others met Telangana leaders in the past and appealed to take the initiation for the Policy, today they all are happy and thanking CM KCR for this historic initiation.
Anil Kurmachalam finally thanked the entire NRI community for being with CM KCR during the Telangana movement and currently in the reconstruction of Telangana.
Comments
comments