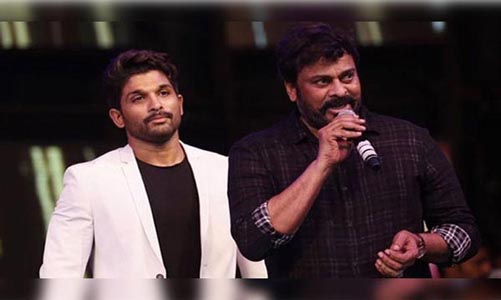 Something or the other is coming out from the sets of Korata and Chiranjeevi movie. They said that it will be Ramcharan for the young Chiranjeevi role.
Now that the RRR of Rajamouli has been postponed. The cherry boy is not in a position to give dates to Koratala Shiva. There is a talk that Allu Arjun is relatively free when compared to Cherry and he would be acting with Chiranjeevi.
Allu boy is in full form after the super-duper hit of AlaVaikuntapuramu Lo. First, they said Vijayasahnti will be working with Chiranjeevi. Then Ramulamma announced that she will not be working in movies again.
She wants to go ahead with her political career. Chiranjeevi, on the other hand, has given just 99 days to Koratala Shiva for completing the movie.
The shooting sometimes is going on in two shifts. It is a home production for Charan in the banner of Konidela Productions. Chiranjeevi's daughter is also involved in the production from time to time.
Koratala is bound by the Diktats of Cherry and Chiranjeevi. They have erected a huge temple set and her Chiranjeevi is an employee of the endowments department.
Chiranjeevi is ensuring that the movie is packed wiht all sorts of ingredients. We do not know if there is any item song in the movie. It will be slightly away from the Koratala mould.
Comments
comments