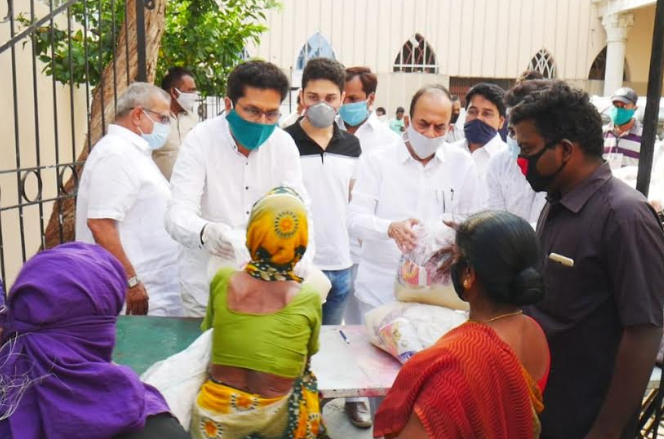 Minister for Home, Telangana State Mohammed Mahmood Ali along with his members of family distributed essential items like Rice, Dall, Onions etc. to the poor at Azampura consecutively for the second day.
He said, it is the Telangana Government under the leadership of Hon'ble Chief Minister on the very first day of imposition of lockdown in the state decided to issue essential commodities to poor people over 87 lakhs holding white ration card and also those poor who do not have food security card/ration card free of cost for one month.
Accordingly, the Government have been distributing the essential commodities so that no one in the state face starvation. He states that due to imposition of lockdown in the state as well as in entire country as a measure of containing the spread of Corona Virus, many NGOs, people, etc. have been coming forward to help their mite with distributing food, food grains etc. to the poor people and others who depend on their daily wages and have gone jobless and facing many problems.
As a part of helping the poor people, Sri Mohmmed Mahmood Ali has been distributing essential items to the poor personally from his family and others, he stated. He urged that everybody must stay at home and should not come out unless there is an urgent work and must maintain 4 feet distance to each other in case of coming out to break the chain and spread of Corona Virus. He said, he prays the Almighty for early relief to the entire world, nation and our state from this contagious Corona Virus and normalcy restored early.
Comments
comments